Book a Session
If you have a dream you'd like analyzed by me, fill out the information below.    I will provide you with a detailed report of your dream and the messages that are being conveyed to you.  The more aspects of your dream that you list, the more accurate your dream analysis will be.  Once you receive your analysis you'll be able to see the parallels in your life, the situations you are experiencing reflected back to you in your dreamscape and offering you answers or solutions to any of the challenges that you may be currently experiencing.
If you would like to book a shamanic/crystal energy session remotely or in person, please fill out the information below.  Tell me a little about what's going on with you and what has inspired you to reach out to me.  If it is an urgent request please indicate that in the subject beside your name in the form below. (ie John Smith URGENT)  Once I read your email, I will be able to determine what type of service you require to bring about balance in your life. 
Healing such as soul retrieval, shamanic extraction, power animal retrieval to restore personal power, as well as many other types of healings can be done in a session in person or as a distance healing. Distant healing can be sent to an individual, in a similar way to how a prayer is performed or as other healing modalities such as Reiki.
No matter what part of the globe you are situated in, you can benefit from spiritual distant healing sessions in the comfort of your own home. Remote healings are just as powerful and effective as in person and can be done for any type of energy work to bring about balance and harmony in mind, body, and spirit.  
 All you need is to believe that you are worthy of healing, and have complete faith that you will be healed.
Shamanic, Crystal or Dream Healing To book a session remotely or in person, submit information below.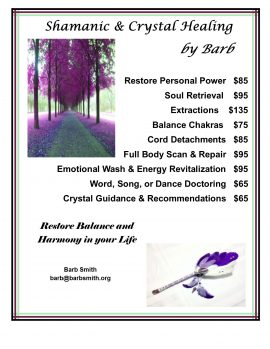 Testimonials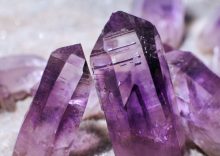 Dream Analysis
Thank you Barb for the wonderful dream analysis. You gave me insight into deeper aspects of my life, which enabled me to move forward with the healing process. Not only did you open my eyes to some very real issues, but also, you gave me the guidance and tools to manage them. You are truly gifted and talented at this and I know you speak from the heart.

Lynn
Enlightenment
Thank you Barb for sharing the Cord Detachment Technique with me. The experience was new for me and very enlightening to what I was working on myself. It gave me clarity to continue with the process. I very much liked how you were guided and handed out angel cards which seemed to be so fitting for what I needed also at the time. Thank you for the experience of enlightenment.

Kevin Ellsworth aka Opi Drinkwater
Cord Detachment
I really enjoyed doing the cord detachment. I really very much enjoyed the experience. It is a practise that I would recommend for anyone and would enjoy doing it again. Thank you! You are truly very wonderful at delivering the cord detachment session. I would whole heartily recommend you to anyone who is seeking awareness/calmness and self discovery. Peace and Light

Joni